It's just past 6pm when the conversation at the coworking space turns to Amazon HQ2, tech jobs, and gentrification. Around the table are four technologists: one just launched a lesbian dating app; another recently exited his first startup and is working on a second; the other two are freelance full stack developers with packed portfolios.
That might sound like a scene straight out of Silicon Valley, but we're in Atlanta, at the black-owned "next-generation private membership club" called The Gathering Spot.
Here, the startup ecosystem is a photo negative of the glaringly white tech scene in the San Francisco bay area. Everyone around the table is black, and as an added bonus, instead of the kombucha and spa water of Silicon Valley's ubiquitous WeWorks, this coworking space has a full bar and table service.
"This is the place," says Barry Givens, an entrepreneur and engineer who founded the robotic bartender company Monsieur and is currently working on a company that will connect affluent African Americans with opportunities to invest in startups. "You have the money, the skill-set. If there was a Wakanda, this is it."
Indeed, with its burgeoning talent pool from area universities, significant social infrastructure thanks to a long-established black upper middle class, and a bumper crop of up-and-coming entrepreneurs, Atlanta's black tech community feels poised to break out.
Iziah Reid, founder of the local software development company NuraCode, compares the evolution of Atlanta's black tech scene to its hip hop scene, recalling a time when local rappers were still trying to imitate the sound of successful artists from Los Angeles and New York.
"Atlanta rap didn't become a thing until they stopped imitating everyone else and went, 'Hey, the south got something to say,'" Reid says. "Hopefully we're the OutKast of black tech."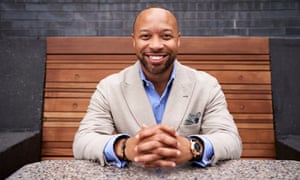 It wasn't always like this. Paul Judge, whom several techies described as one of the "godfathers" of the Atlanta tech scene, recalled the early, dry years of trying to garner respect from Silicon Valley investors over lunch at Bytes, a local gastropub where the food is southern, the menus are iPads, and the location is perfect for the engineers and entrepreneurs of Georgia Tech, one of the highest ranked public universities in the US.
Judge argues that Atlanta is poised to compete with Boston, Los Angeles, and New York to fill out the US's top three tech cities behind Silicon Valley, thanks to its airport ("I can leave here at 10am and be at a lunch meeting in San Francisco," he boasts), bevy of Fortune 500 corporations and concentration of engineering talent – in addition to Georgia Tech, the city is home to Georgia State University, Emory and the historically black colleges and universities Morehouse, Spelman and Clark Atlanta.
But in the early 2000s, Judge says, investors would hear that a company was from Atlanta and immediately say, "No." By 2007 or 2008, the investors might take a meeting, but they would demand that the company relocate to California.
"Now they're saying, 'We'll come to you.'"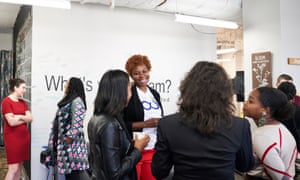 "There's like five businesses I want to hear more about," enthused Rob Hayes, a partner at First Round Capital, a seed stage venture firm that boasts an early investment in Uber. "Atlanta is amazing! Why have I not been here?"
The answer to that question is left unspoken, but to black entrepreneurs in Atlanta, it's glaringly obvious. Several have tested the waters of the white-dominated tech scenes in Silicon Valley or New York, and chosen to settle in Atlanta.
"We go there, we feel excluded, we come back," says Alonzo Patterson, a full stack developer who recalled a bitter experience at a hackathon at Facebook's campus in Menlo Park. No one was outwardly racist to him, he adds, but every time he offered to take on a piece of a project, he was rebuffed. "No one thought I was a coder. I had my laptop, but I couldn't join a team."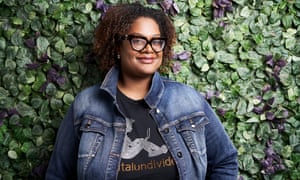 That sense of being underestimated and written off is echoed by Kathryn Finney, founder and CEO of digitalundivided, who went through a startup accelerator program in New York. "People had no expectations of me," she says. "Not just low – no."
Finney's work now includes preparing her cohort of black and Latina startup founders for pitch meetings with venture capitalists, the vast majority of whom have never invested in a company founded by a person of color, let alone a woman of color. In their 60-second pitches, the founders all included market research, a business plan, and revenues to date, even if those earnings are currently measured in the hundreds of dollars.
It's a sharp contrast to one of Atlanta's most well-known tech startups, YikYak, which was founded in 2013 by two white college graduates and showered with more than $70m in venture funding. The anonymous message board app enjoyed viral success on high school and college campuses, became notorious for cyber-bullying and racist abuse, and eventually shut down in 2017 without ever having generated a dime in revenue.
For startup founders at The Gathering Spot or digitalundivided, that "business model" simply isn't an option. Not only will no one write them those checks, but they usually come from families without the generational wealth to support them through revenue-free explorations.
"If it doesn't make money in the first three months, we gotta go," says Reid.
Finney pointed out that many of the female founders in her incubator are holding down full-time jobs while they try to get their companies going. "It's easy for Silicon Valley to say you should be full time," she says. "If you are a successful black woman, you are usually supporting other people. We can't just erase our family."
But alongside the challenges are opportunities. When Reid first founded Nuracode, he was chasing contracts with some of Atlanta's big corporations, like Coca-Cola and Delta. But he saw an opportunity when JT the Bigga Figga, a rapper and filmmaker, showed up in his office with $10,000 in cash, asking Reid to build an app because his movies kept getting bootlegged.
"We were uniquely positioned for that kind of client," Reid says. "Where else was he going to go?" Nuracode built the app, which debuted as TrapFlix at SXSW in 2015 with backing from Snoop Dogg. And Reid began focusing on helping local black entrepreneurs – hair stylists, restaurateurs, motivational speakers, and more – go digital.
"What happened with the rap world is that everyone started following Atlanta," Reid says. "Black culture is the culture that is most exported … Once we figure out how to tie [the culture and the technology] together, we'll also be the most exported."